CSCDL series hydraulic cylinder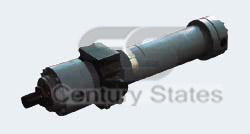 The nominal pressure of CSCDL series cylinder is 16MPa, its max. working pressure is 24MPa, piston §¶25~500mm, stroke length up to 10m. CSCDL series hydraulic cylinder has short mounting length, reliable operation, convenient installation and uninstallation, easy repair and various mounting type. It is suitable for the industry such as construction machinery, mining, hoisting and transportation, port and metallurgy machinery etc.
The inductance proximity switch with resistance to high pressure may mounted on the limited position on both ends of CSCDL cylinder£¨piston diameter of 40~500£©, which make the device compact and easy for installation and adjustment. For the cylinder of flanged head and rear, the interior-type position measuring sensor may be equipped to have a precise positioning, so that the cylinder could develop its automatization to the full.