Hydraulic power unit
Hydraulic power unit is composed of motor-pump unit, integrated-module or valve blocks, oil tank and hydraulic accessories such as: filter, temperature controller, heat exchanger, accumulator, pressure gauge, pipes and electric cabinet etc. These accessories are standalone from each other, different system requirement makes different choice. Some of the hydraulic control elements£¨various of controlling valves£©could be integrated onto the power unit.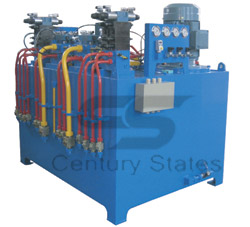 Working principle:
Motor rotates with oil pump. Pump absorbs and supplies oil to transfer mechanism energy to pressure energy of hydraulic oil. After accomplishing direction, pressure and fluid adjustment by integrated units (or valve units), hydraulic oil arrives cylinder or motor of hydraulic mechanism from external channel in order to control direction, strength, velocity of actuating mechanism, and make all hydraulic mechanisms do work..
Ordering type:
Remarks:
1. Structure and oil volume shall be up to the customer.
2. The discharge of oil pump shall be selected according to the pump suppliers.
3. The following could be made in accordance with the requirement of customer or the working condition:
£¨1£©Integrated blocks suitable for the system
£¨2£©Various of accessories£¨such as: heater, accumulator, filter etc.£©
£¨3£©Electric controller